Founder
My name is Koen Gijzel and I have a passion for meeting and connecting with new and interesting people. In fact, my ability to instantly connect with people caused my friends to start calling my 'connect-ability' 'Koentact'!
In addition to connecting with people and sharing life stories, I love the Dutch and French languages and cultures. In 2008 I realized that I could combine all of my passions by teaching Dutch to French expats. During the lessons I focused on practical situations that would help my students to interact with local people. I took my students out of the classroom to experience the Dutch language and to talk to locals, for instance at the market and during cooking and photography classes. In addition I organized 'language dating events' to give my students the opportunity to mingle with Dutch people.
At Koentact we focus on interaction, we respect each other's background and dive into each other's cultures. I am grateful that I can live my passion.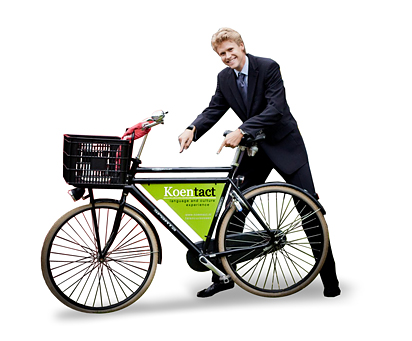 Meeting new people and connecting them with my friends is what I live for!
Koentact – more than just a Dutch Course
In September 2009, thanks to the positive word-of-mouth marketing of my French students, Air France KLM employees wanted to follow a Dutch Course with me. This was the best reference I could wish for, and I was highly motivated to put all my energy into building Koentact Language School.
Today, Koentact has an office in the city center of Amsterdam, consists of a professional staff of five young professionals and many well-qualified and enthusiastic teachers. Together we offer a wide range of Dutch language courses and activities for internationals from all over the world.
Thanks to the personal approach of our staff and teachers, our practical and social approach to language learning and never-ending energy, students do not only learn Dutch at Koentact, but they also have lots of fun, make many new friends and experience the real Dutch culture. Let's meet soon!
The diversity of the conversational partners, the subjects and the alternation between theoretical lessons and the practical lessons absolutely pleased me. The combination of these ingredients with the philosophy to do 'everything in Dutch' is a successful and effective cocktail. Off course work needs to be done, but still there is a lot of fun and satisfaction while learning language and culture.
Christophe Boucher, VP Cargo Air France KLM