Our team is composed of five young professionals who love languages, cultures and making new international friends. We put every effort into making foreigners feel welcome in the Netherlands.
KOEN GIJZEL
My name is Koen Gijzel and I am the founder of Koentact. I studied French and Dutch linguistics in Amsterdam and Paris, and started Koentact in 2009. I was born in Utrecht and I have been living in Amsterdam since 2003, still passionately support my home football team FC Utrecht though!
One of my favorite places in Amsterdam is the market, from Dappermarkt to Noordermarkt, on account of the enormous variety of different cultures and great foods that you find here side by side.
I love listening to French rap music, studying Arabic, making my own ravioli, going to classical concerts and cycling on my racer in the great nature around the city.
I am fortunate to be surrounded by so many wonderful and interesting people and I love connecting those people to each other. In my opinion learning Dutch is actually the perfect excuse for internationals to simply enjoy themselves, network and meet new people in Amsterdam.
See you soon!
TIMO BRUINSMA
My name is Timo Bruinsma and I'm responsible for the financial, legal and strategy aspects at Koentact. I studied Business Studies and Psychology in Amsterdam, but I was born in Limburg, which is the most southern province of the Netherlands.
Taking pride in my southern background, I'm quite a 'bon-vivant' and I love a good glass of Scotch. Besides my own culture, I love the American culture, especially American sports and late night shows. So yes, I did follow the Super Bowl in the middle of the night!
I enjoy working in a small team and Koentact's international environment suits me perfectly. For me it's very inspiring to meet all those internationals who have their personal stories and reasons why they have moved to the Netherlands.
If you have any questions for example about getting an invoice for your company, you can always send me an email.
Work hard, play hard!
NATASCHA DE VRIES
My name is Natascha de Vries and I have been with Koentact since February 2019. In my position as course coordinator, I'm responsible for the contact Koentact has with students. Besides that, I help with the coordination of the open day and the start of the new courses. I join the field trips as Koen's sidekick and photographer and I'm responsible for the Spreekwoordenwoensdag pictures in which we explain Dutch sayings!
I was born in a village in Noord-Holland and moved to Amsterdam in 2018. I love living and working in Amsterdam, the city has so much to offer. Besides my work at Koentact I also study Creative Business at the Amsterdam University of Applied Sciences. In my free time, I love to dance, travel and get together with friends.
I've met a lot of different people since I started working at Koentact. It's amazing to see so many people progress while learning Dutch!
KIM GERRITSEN
My name is Kim Gerritsen and as a private program and content coordinator, I am responsible for organizing private lessons and managing content at Koentact. Besides that, I also help coordinate our Open Day and Saturday activities.
I am a born and raised Amsterdammer and I studied Dutch language and culture in – yes, also – Amsterdam. I actually love everything that has to do with language and culture: from books to photography, and from writing to theatre. Besides that, I also do a lot of sports such as fitness, swimming and yoga. These are my official hobbies, but what makes me the happiest is just being together with friends in a typical Dutch bruine kroeg.
I love how at Koentact my passion for language and culture comes together with meeting new people. You can always call me for tips about cultural activities, Amsterdam and cultural activities in Amsterdam – or if you want to know your Dutch language level. I love finding the best suitable solution for every student!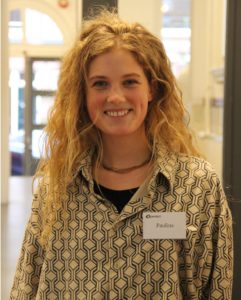 PAULINA ALBRECHT
My name is Paulina Albrecht and I am the financial and group course coordinator at Koentact. Together with my colleagues, I am also responsible for planning and organising all kinds of events, such as the Open Day and other activities for everyone interested in learning Dutch!
I was born and raised in Germany and moved to Amsterdam in 2020. I am currently studying Communication Science at the University of Amsterdam and will finish my Masters degree in summer 2024. I think it only took me a few weeks to fall in love with the city and I am more than happy to call Amsterdam my home. I have met a lot of fun and interesting people over the past few years and I am excited to see what the future has in store for me.
I have been working for Koentact since 2022 and I am very lucky to have such a great team and working environment around me. My ambition at Koentact is to make the preparation steps for students before they sit in the actual classroom as smooth and easy as possible. If you have any questions about a payment or an invoice, feel free to contact me! I am also still working on my Dutch skills, so you might see me in one of the classes as your fellow student. Tot gauw!
OUR TEACHERS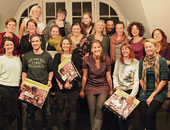 Our teaching team is composed of young and enthusiastic language and culture specialists. Our teachers are carefully selected and will make sure you are fully engaged at all times. At Koentact, new students are always encouraged to tell their teachers why they wish to learn a new language (and to tell them their hobbies, interests and how they would like to apply their newly-gained knowledge) and bring any questions they might have to the lessons. Our teachers are always happy to teach their students exactly what they wish to learn.